Laura KuenssbergPolitical editor@bbclaurakon Twitter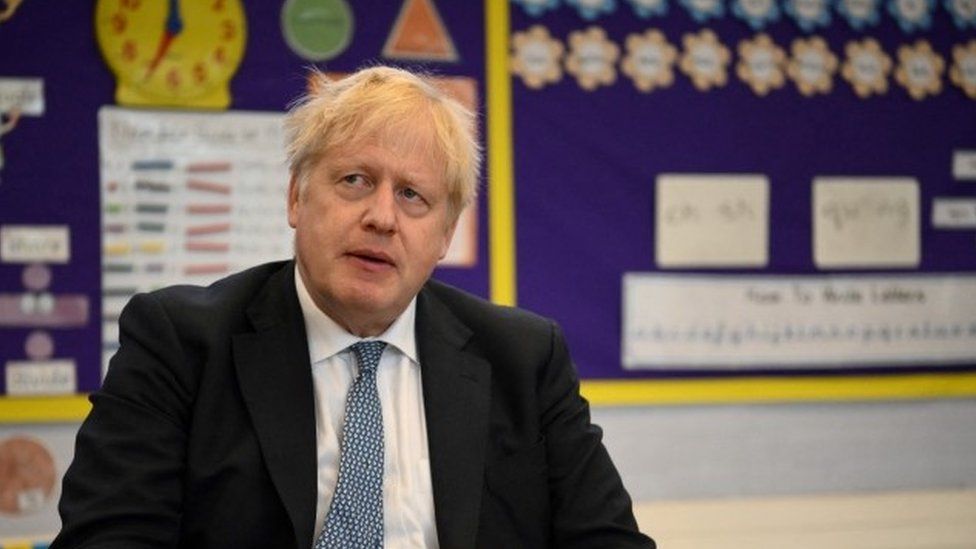 Image source, Reuters
The local elections don't hold up a perfect mirror to the whole country's desires, or exactly what would happen if a general election had just happened.
But they are a valuable measure of the state of the battle of the two main parties who seek to govern us all. Caveats aside, the events of the last 24 hours do matter.
Spin back a few weeks, and some Conservatives feared these elections would end in absolute calamity after months of extraordinary revelations about what had been going on in Downing Street during lockdown.
The party feared an angry public would punish them at the ballot box. And rising anxiety about making ends meet would translate too into a kicking for the government.
After all the turmoil, the prime minister's allies fretted. And some of Boris Johnson's detractors darkly hoped a meltdown would give them reason to act to oust him.
Now that nearly everything has been counted, the Tories have lost nearly 500 seats across the UK. That represents around a quarter of the council seats they contested.
The prime minister acted out his usual jollity at a photo op in a primary school in his constituency on Friday morning. Yet the reality is a deeply uncomfortable set of results that has got steadily worse throughout the day. It represents a rejection of the Conservatives in many parts of the country they see as home.
As one cabinet minister had predicted, "we will do badly but it won't be Armageddon. Labour will do well but won't blow our socks off".
The losses are though without question at the worse end of pundits' expectations. It will make Tory MPs in southern seats and London nervous.
In Scotland and Wales, Conservatives are in retreat. Yet right now it doesn't seem like the kind of wipe-out that will explode Number 10. And after 12 years in government, losses like this in a mid term are not without precedent.
In election studios we heard local council leaders draw lines between their losses and Mr Johnson's performance, but there's no troop of Tory rebels visibly on the verge of trying to take him out.
Labour's move forward was notable. Impressive and symbolic wins in London. Seats from Cumbria to Southampton, second place in Scotland, where SNP had another impressive performance with their incredible years of dominance.
Yet on these results Labour is not progressing far or fast enough for them to be sure they're on track for Number 10. Where the Tories were losing, they were often losing to the Liberal Democrats, who had a great outing, but are not their main rival.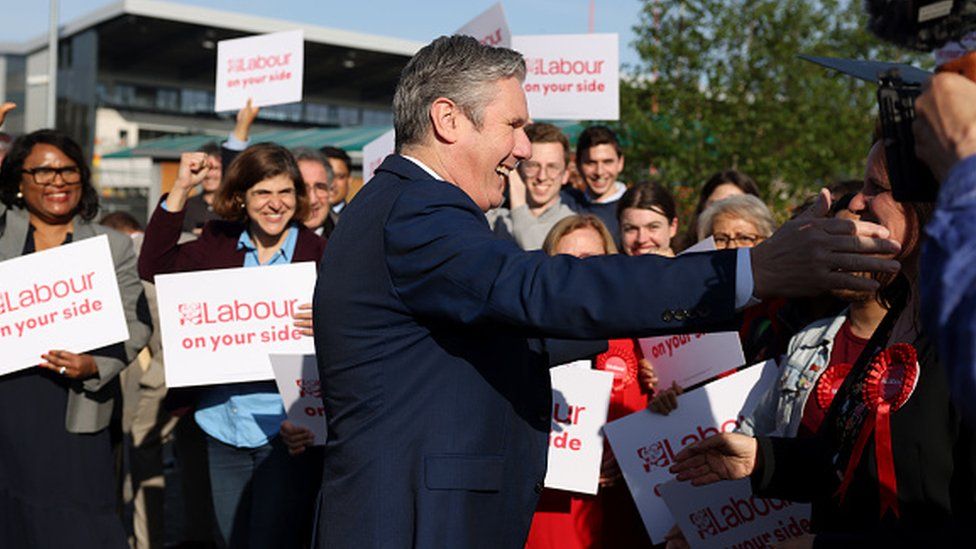 Image source, Getty Images Image caption,
Labour leader Keir Starmer went to Barnet to congratulate winning councillors from his party
There's an electoral metaphor you hear privately so often from Labour MPs. Labour leader Sir Keir Starmer and his team have stopped the rot, and improved the party's fortunes after such a low ebb under its former leader Jeremy Corbyn.
But again and again, they whisper they're not quite sure if they have the force and passion to make the huge strides that could secure Number 10.
Familiar too though is a plea from Labour frontbenchers to understand just how bad things were, in their views, when they took over. One shadow cabinet minister said it was as if the party had "long Corbyn", an unfortunate metaphor for the long-term effects of his leadership.
It's almost as if the two main political tribes are locked together in a mutually uncomfortable status quo.
The Conservatives are suffering, but the situation is not dreadful enough to provoke backbenchers to act, or Number 10 to take radical steps to change or to meet their critics' demands.
Labour is showing progress, but less than they'd like. Yet quite separately to the results, "events" suddenly changed the balance of the last 24 hours, just as Sir Keir was on tour celebrating the gains that he had made.
The irony is that, during the approach to these elections, it was Mr Johnson's future in question. Labour was regularly calling for him to quit because of revelations about parties in Number 10.
Suddenly, after weeks of claims and rising political pressure from Conservatives and some of the press, Durham Police announced after all, that they would look at the beer and curry the Labour leader was said to have had with aides.
He's always said he did nothing wrong. He's said tonight that he's confident no rules were broken. Yet with the police investigation into Sir Keir's lockdown behaviour now taking place, the jeopardy of Downing Street's party saga that he prospered from applies in part to him too.