By Marie Jackson & Tanya GuptaBBC News
Travellers heading to France are facing delays of several hours amid continuing gridlock on roads near Dover and the Eurotunnel terminal in Folkestone.
More than 17,000 passengers had left Dover on ferries by lunchtime on one of the busiest weekends of the year.
P&O Ferries warned customers to allow three to four hours to clear local roads and security checks on Saturday.
Passengers using Eurotunnel also faced lengthy delays on the journey to the Folkestone terminal.
This weekend is one of the busiest for UK overseas travel as most schools in England and Wales have broken up for the summer.
Families travelling to the Eurotunnel terminal told the BBC they faced delays of more than six hours amid heavy congestion around Folkestone.
Passengers using Eurotunnel were asked to arrive two hours early by the operator.
John Keefe, director of public affairs for Eurotunnel, said traffic disruption had been caused by an accident on the M20 on Friday, and stretches of the road being used solely for freight traffic, with holidaymakers diverted on to A-roads.
Saturday's delays follow long waits on Friday when a major incident was declared after routes around the Kent terminals were in gridlock and traffic queues four miles long also formed on the eastbound M2.
Media caption,
Thousands of lorries stacked on M20 outside Dover
A war of words broke out between UK and French officials over the cause of the disruption.
In a visit to Kent on Saturday afternoon, Tory leadership candidate and Foreign Secretary Liz Truss claimed delays at Dover ferry port were down to a lack of French border staff.
She said: "I'm very clear that we need to see action from them to resolve the terrible situation that people are facing."
But Calais MP Pierre-Henri Dumont rejected this and said additional checks post-Brexit and a lack of capacity at the port were behind the problem.
He also told BBC News the Port of Dover was "too small" and there were too few kiosks due to lack of space.
Some 3,000 lorries are also waiting to cross the Channel. They are currently parked on the M20 outside Dover, while holiday traffic is prioritised.
Natalie Chapman, from haulier group Logistics UK, said some lorry drivers had waited to cross the Channel for "well over 18 hours" in queues with no toilet facilities.

Six hours to travel 70 metres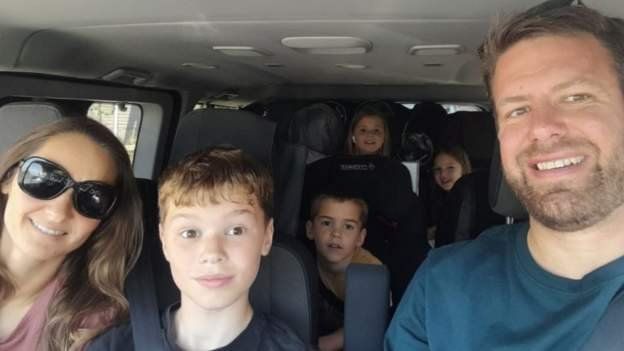 Image caption,
Jane Dennis and her family managed to escape the gridlock after six hours by taking a detour
Jane Dennis, her husband and their five children, aged between three and 11, barely moved for six hours while trying to reach the Eurotunnel terminal.
Between around 7am and 1pm they advanced approximately 70 metres before deciding to take a detour that friends had used.
"We hit the queue at about 07:05 BST, and we left the queue six hours later at about 13:10 BST, when we'd travelled 70 metres or so," she told the BBC.
"Literally inching a couple of cars' worth forward every hour."
She said the traffic queues weren't being managed by anyone, adding: "It was just the way the gridlock happened, the one we were in initially there was nowhere for people to budge."
Once they made the detour, traffic was flowing freely on other roads.
They eventually arrived in France 12 hours after setting off from home in Hampshire, and had to try to find a hotel to stay in overnight, before continuing their journey to a campsite in Vendee on Sunday.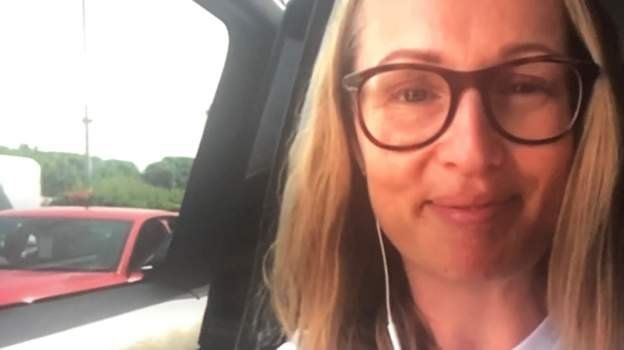 Image caption,
Anna Parkinson faced long delays while travelling with her three children.
Holidaymaker Anna Parkinson took seven hours to travel two miles to the Eurotunnel terminal - with three "fractious" children sat in the back.
She said she felt for local residents who "currently can't leave their local villages because they're hemmed in by all of us desperately trying to get on the train that we should have caught five hours ago".
Tim Povall, travelling to Budapest with his wife, two sons and their dog, had been queuing for nearly seven hours when he spoke to the BBC, meaning their planned stopover in Bruges was disrupted.
He says there should have been better organisation at Folkestone to avoid a "free-for-all".
"It's ruined this evening. My two sons are angry and my dog isn't happy. It just doesn't make sense.
"There are lots of pregnant people and people with kids walking around. It's hot, I feel sorry for them."


Backlog is starting to clear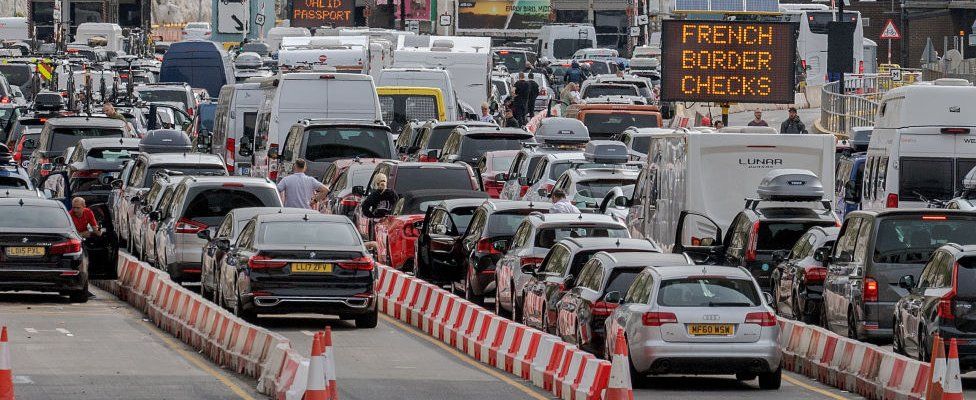 Image source, Getty Images
We're told that things are flowing a bit more freely and that they are starting to eat into that backlog that built up yesterday.
There are a lot of cars queuing here at the port at the moment. But in a sense this is the good queue. This is the queue you want to be part of.
The problem is that thousands of people are stuck on the roads miles out from Dover trying to get across Kent to the port.
They've been held back by the police operations that have been in place to try to manage the traffic, to try to stop Dover itself getting completely snarled up.
And that does seem to have been a bit more successful today, but drivers are still being warned that they do face big delays.



Has your journey been affected by the delays in Dover? You can share your experience by emailing haveyoursay@bbc.co.uk.
Please include a contact number if you are willing to speak to a BBC journalist. You can also get in touch in the following ways:
If you are reading this page and can't see the form you will need to visit the mobile version of the BBC website to submit your question or comment or you can email us at HaveYourSay@bbc.co.uk. Please include your name, age and location with any submission.

Follow BBC South East on Facebook, on Twitter, and on Instagram. Send your story ideas to southeasttoday@bbc.co.uk.