Media caption,
Watch: People climb up collapsed Gujarat bridge to escape river
Police in the Indian state of Gujarat have arrested nine people in connection with the collapse of a pedestrian bridge that killed at least 141 people.
Four of those detained are employees of a firm contracted to maintain the bridge in the town of Morbi.
Hundreds were on the structure when it gave way, sending people screaming for help into the river below in the dark.
Hopes of finding more survivors are fading. Many children, women and elderly people are among the dead.
The 140-year-old suspension bridge - a major local tourist attraction - had been reopened only last week after being repaired.
Police investigating Sunday evening's disaster say the nine people arrested are all associated with Oreva group, the firm contracted to maintain and operate the bridge.
They are being investigated for culpable homicide not amounting to murder, senior police officer Ashok Kumar Yadav said.
"Of these nine, two work as managers, while two work as ticket booking clerks [all employed by Oreva] at the bridge site," he told a news conference.
The other five accused include two people contracted to repair the structure, as well as security personnel at the bridge. There was no immediate response from Oreva to news of the arrests.
Earlier, a company spokesman told the Indian Express newspaper: "While we are waiting for more information, prima facie, the bridge collapsed as too many people in the mid-section... were trying to sway it from one way to the other."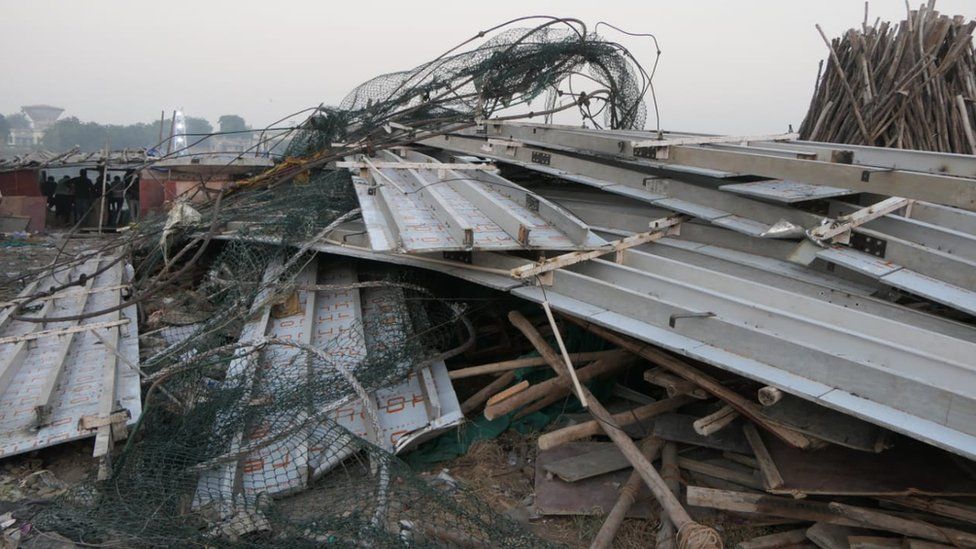 Image source, Bipin Tankaria Image caption,
The wreckage of the bridge had to be pulled clear in the search for survivors and bodies
Questions have been raised over why Oreva Group, a company which once described itself as the "world's largest clock manufacturing company" - before it also began making lighting products, battery-operated bikes, home appliances and TV sets - was given responsibility for maintaining a bridge.
Concerns have also been raised about whether safety checks were carried out before the bridge was reopened.
The 230m (754ft) bridge on the Machchhu river was built in 1880, during British rule in India.
In travel brochures, a visit to the Julto Pul (or the Hanging Bridge) is listed among "the top 10 things to do in Morbi" and it attracts a large number of sightseers and local people on holidays and at festivals.
Officials have not yet said how many people were on the bridge when tragedy struck at around 18:40 (13:10 GMT) on Sunday, but estimates put it between 400 and 500.
More than 177 people have been rescued, officials said.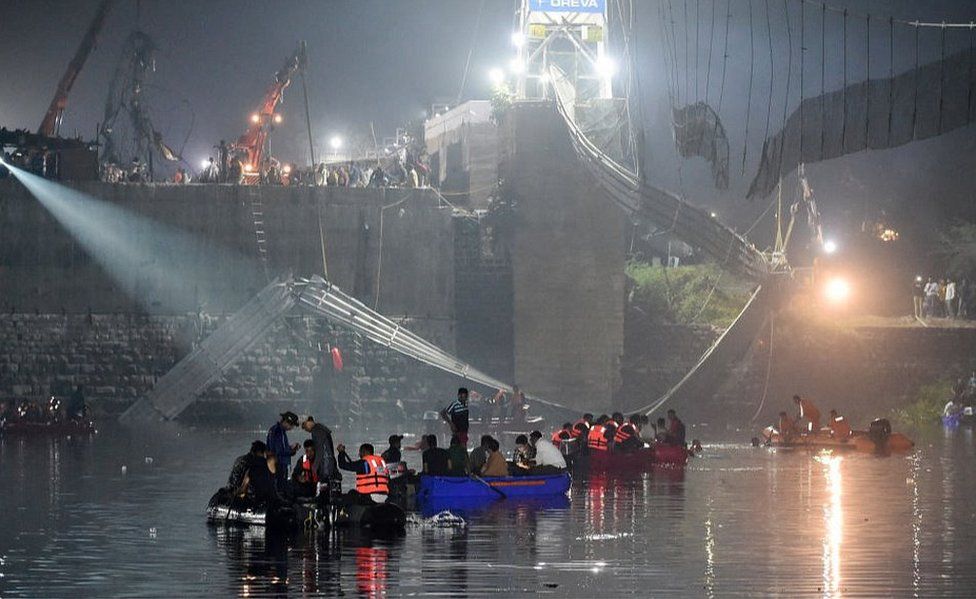 Image source, AFP Image caption,
Rescuers searched for survivors at night
On Monday, a dozen boats with members of the national and state disaster response teams searched for survivors while divers from the Indian navy were on standby, reported BBC Gujarati's Roxy Gagdekar at the scene.
Four cranes were deployed to pull out the bridge wreckage and rescuers looked for bodies trapped underneath.
Distressed relatives searched for their loved ones and as the hours passed, their desperation grew, our correspondent said.
A young man told the BBC that he had been searching for his six-year-old sister since Sunday night.
"I was holding her hand when the bridge collapsed and we fell into the river. I survived and have been looking for her everywhere, I went to the government hospital also, but my sister is nowhere to be found," he said, sobbing.
A video shot before the collapse showed the overcrowded bridge swaying while people gripped the netting on its sides.
After the incident, dozens were seen clinging onto the wreckage as emergency teams attempted to rescue them. Some survivors clambered up the bridge's broken netting, and others managed to swim to the river banks.
Early on Monday morning, rescuers made an opening in a small dam on the river, about 500 metres downstream, to reduce the water flow.
The bridge above the dam was packed with people, waiting to hear news of their loved ones.
Gujarat is the home state of Indian Prime Minister Narendra Modi, who has announced compensation for the families of victims. He said he was "deeply saddened by the tragedy" and its cause would be investigated.
Leader of the opposition Congress party Mallikarjun Kharge demanded a judicial inquiry to find out how the bridge collapsed within just "five-six days" of being reopened, and who allowed so many people on it.
Prateek Vasava was on the bridge at the time. He told 24 Hours, a Gujarati-language news channel, how he had swum to the river bank.
Several children fell into the river, he said, adding: "I wanted to pull some of them along with me but they had drowned or got swept away."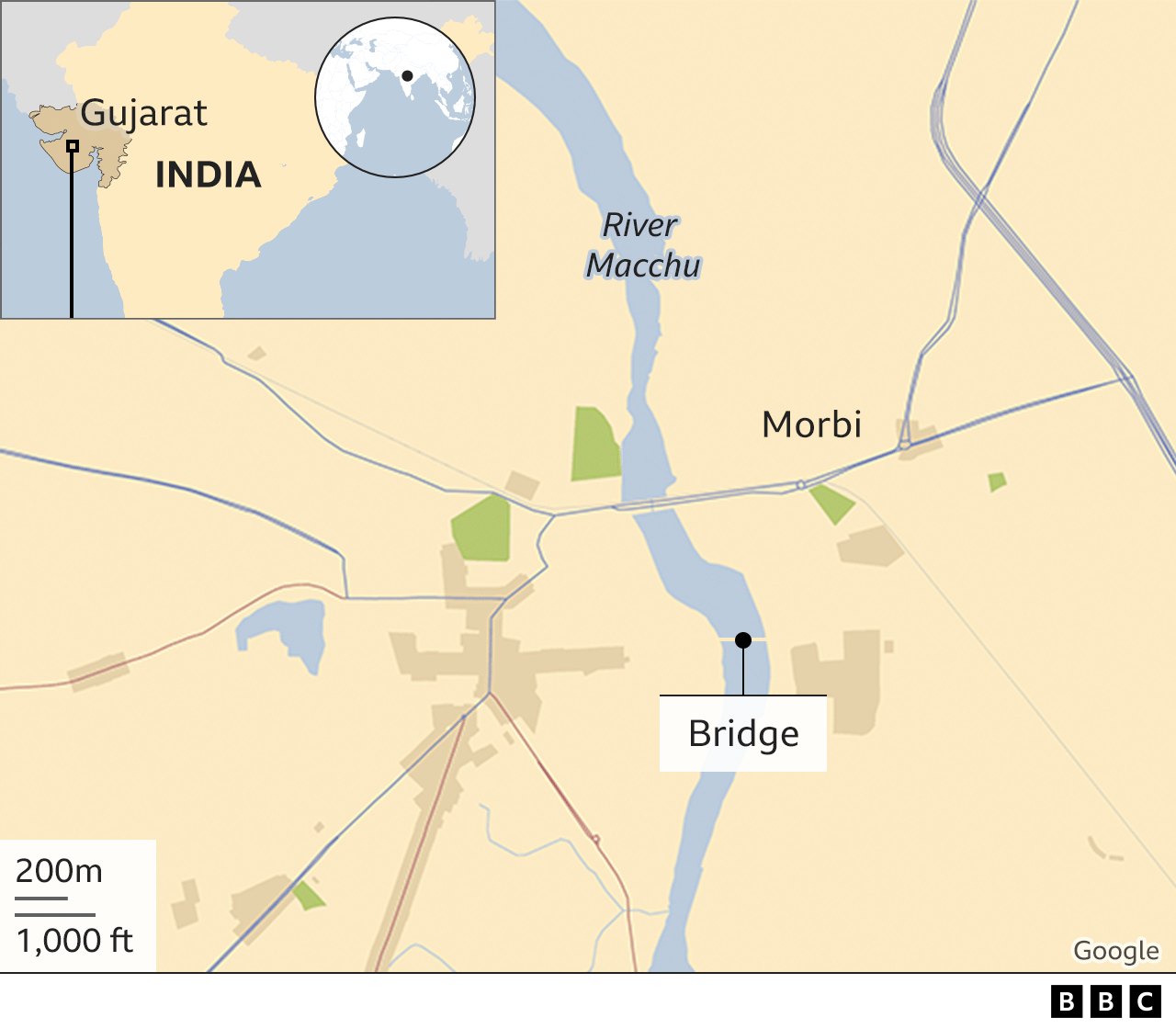 Image caption,
Maps shows location of the suspension bridge in Morbi town, Gujarat

Are you in the area? Only if it's safe to do so, you can get in touch by emailing: haveyoursay@bbc.co.uk.
Please include a contact number if you are willing to speak to a BBC journalist. You can also get in touch in the following ways:
If you are reading this page and can't see the form you can email us at HaveYourSay@bbc.co.uk. Please include your name, age and location with any submission.