Northern Ireland is on course for an assembly election after politicians missed the deadline set by Westminster for restoring devolved government.
Chris Heaton-Harris, the Northern Ireland secretary, now must call an election to be held within 12 weeks.
He pledged to do last week, rather than try to delay it or avoid it with fresh legislation at Westminster.
The most likely date is 15 December, although a date for a poll does not have to be set immediately.
On Friday morning, Mr Heaton-Harris tweeted that "the people of Northern Ireland deserve a fully-functioning devolved government".
He added that he would be "providing an update on this".
Today Stormont could be taking decisions to ease the challenges people face. Instead, the legal duty to act falls to me as Secretary of State.
I will be providing an update on this.
(2/2)
— Chris Heaton-Harris MP (@chhcalling) October 28, 2022 The BBC is not responsible for the content of external sites.View original tweet on Twitter


The Democratic Unionist Party (DUP) is blocking the restoration of power-sharing in its protest against the post-Brexit trading arrangements called the Northern Ireland Protocol.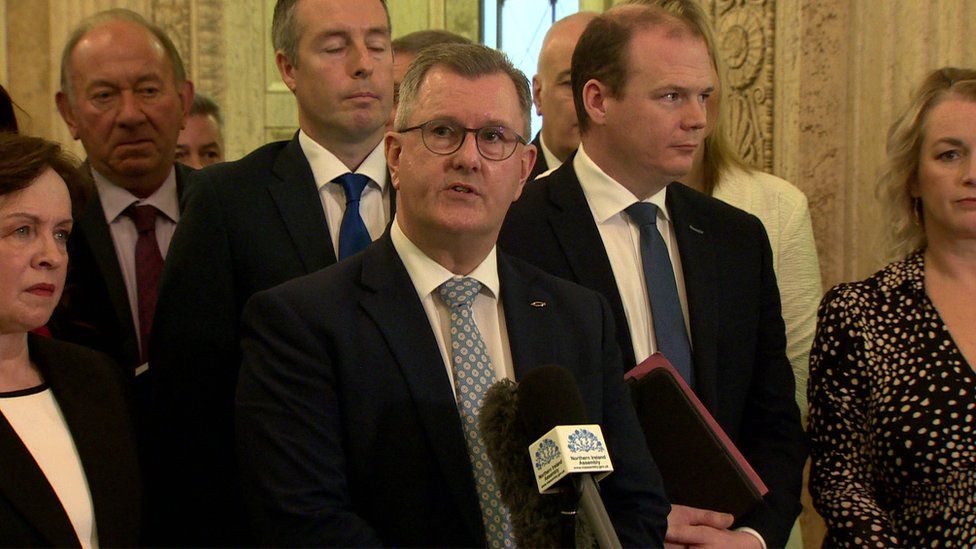 Image caption,
DUP leader Sir Jeffrey Donaldson said his party would not change its position until the Northern Ireland Protocol was changed
Unionist politicians argue that the protocol undermines Northern Ireland's position in the UK.
It keeps Northern Ireland aligned with some EU trade rules to ensure goods can move freely across the Irish land border.


Analysis: Campaign trail leads to Christmas
by Darran Marshall, BBC News NI political correspondent
Chris Heaton-Harris had repeatedly pledged to call an election if the devolved institutions were not reformed.
We can expect him to move quickly. A formal announcement may come as early as lunch time on Friday.
Politicians at Stormont had argued that a new election would not solve the impasse over the Northern Ireland Protocol.
But they are now resigned to the fact they'll be hitting the campaign trail before Christmas.
As it stands, it is far from clear that the power-sharing government will return on the other side of an election.


The DUP withdrew from the Northern Ireland Executive in February, with ministers remaining in post but with only limited powers.
The executive is made up of ministers from the largest parties under a power-sharing arrangement and is designed to ensure unionists and nationalists govern together.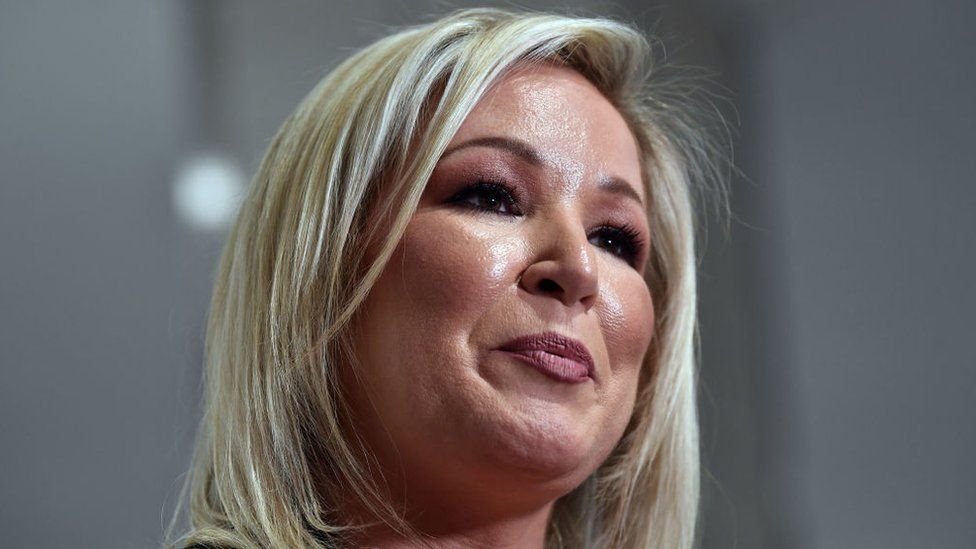 Image source, Getty Images Image caption,
Sinn Féin's Michelle O'Neill accused DUP leader Sir Jeffrey Donaldson of a "failure of leadership"
Assembly members met at Stormont as Sinn Féin, which won the largest number of seats in the last assembly election in May, called for the DUP to end its protest.


What happens next?
With the deadline passed, the Northern Ireland secretary must call an election "as soon as is practicable" - to be held within 12 weeks.
Chris Heaton-Harris, who has been in office since 6 September, has consistently said he will call one after the deadline passes.
Stormont's caretaker ministers were removed from office as of midnight and senior civil servants are now in charge.
The assembly - which has been meeting only for special recalls since May's election - has also been dissolved.
As the DUP has said it will continue its protest against the Northern Ireland Protocol, the election is unlikely in itself to break the stalemate.
So Northern Ireland could be set for further cycles of negotiations, up to 24 weeks, and future elections until a resolution is found or the law is changed.


But the DUP denounced the assembly meeting as a "flawed and failed attempt" to restore power-sharing.
The meeting failed to elect an assembly speaker, or the first and deputy first ministers, so no government could be formed.
It is the fourth time the assembly has met and failed to elect a speaker since May's election.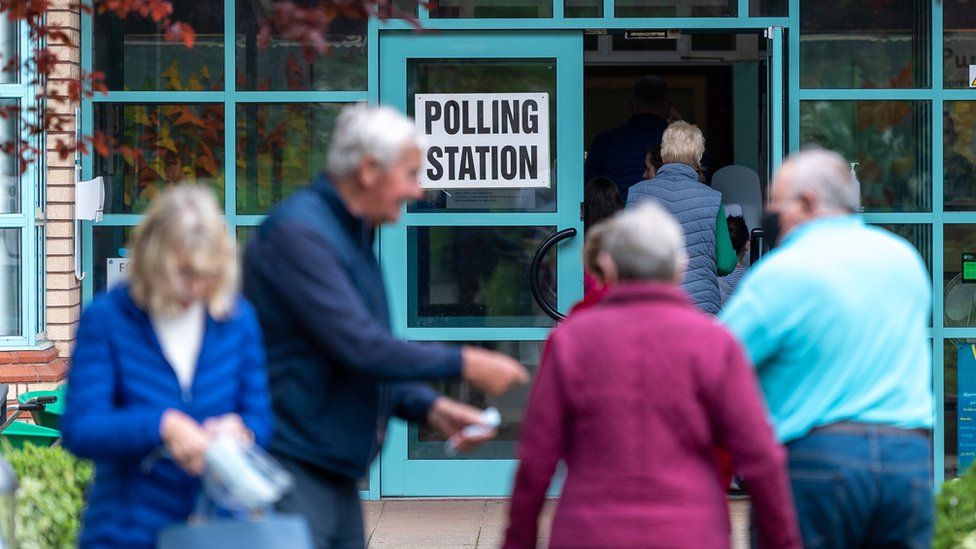 Image source, Pacemaker Image caption,
The most recent Stormont assembly election took place in May
Prime Minister Rishi Sunak had urged the DUP to return to Stormont.
His official spokesman said: "The people of Northern Ireland deserve a fully functioning and locally-elected executive which can respond to the issues facing the communities there."
Irish Tánaiste (Deputy Prime Minister) Leo Varadkar described the situation as regrettable, urging all parties, particularly the DUP, to "honour their mandate".
How have politicians reacted since the deadline?
On Friday morning, Sir Jeffrey defended his party's position and said "nothing has moved forward in solving the protocol" since the last assembly election.
"We've had three prime ministers, we've had the government changed often and we haven't seen the progress that is needed.
"We need a further period now to sort this out, get a solution on the protocol... and that will see the institutions restored immediately."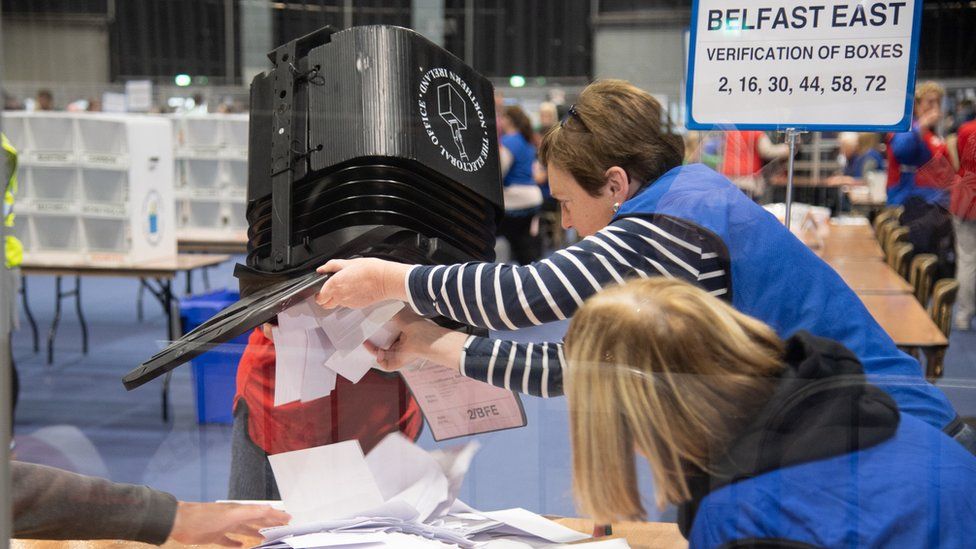 Image source, Pacemaker Image caption,
Electoral staff could find themselves counting ballots again sooner than many expected
Sinn Féin assembly member Conor Murphy said the the DUP would represent a "minority view" after an election.
"The majority of people, the majority of parties, the majority of MLAs elected want the institutions to work," said the former finance minister.
Eóin Tennyson of the Alliance Party said reform of Stormont was needed to prevent "stop-start devolution".
"Jeffrey Donaldson is claiming that he is somehow influencing the UK government or the EU - he's not," said the assembly member.
"He's simply punishing people in communities here."
Ulster Unionist Steve Aiken said there was a need for a functioning executive due to "all the difficulties we have coming up", including the cost-of-living crisis.
SDLP assembly member Matthew O'Toole said the lack of government was "testing" the patience of the public.
"People in this place are completely bored and disgusted with politicking, particularly from the DUP," he said.
He described the prospect of another election as a "terrible idea".

Do you live or own a business in Northern Ireland? How would an election affect you? Share your experiences by emailing haveyoursay@bbc.co.uk
Please include a contact number if you are willing to speak to a BBC journalist. You can also get in touch in the following ways:
If you are reading this page and can't see the form you will need to visit the mobile version of the BBC website to submit your question or comment or you can email us at HaveYourSay@bbc.co.uk. Please include your name, age and location with any submission.

Read more: Stormont crisis explained