Image caption,
Smoke rises on the outskirts of Ukraine's capital Kyiv after Russian missile attack
By Jaroslav Lukiv
BBC News
Ukraine says power and water supplies across the country have been badly hit after Russia launched more than 50 missiles targeting critical facilities.
In the capital Kyiv, 80% of residents were without water, and about 350,000 apartments had no electricity, Mayor Vitaliy Klitschko said.
In the north-eastern city of Kharkiv, energy facilities were struck.
Russia said its long-range high-precision weaponry targeted Ukraine's military command and energy systems.
The country's defence ministry added that all "designated objects were hit".
Ukraine's military said its air defences had shot down 44 out of 50 cruise missiles launched from the area of Russia's Rostov region and the Caspian Sea.
Thirteen people were injured in the attacks across the country, the Ukrainian police chief said on national television.
The strikes come after Russia blamed Ukraine for a drone attack on its Black Sea Fleet in the annexed Crimea.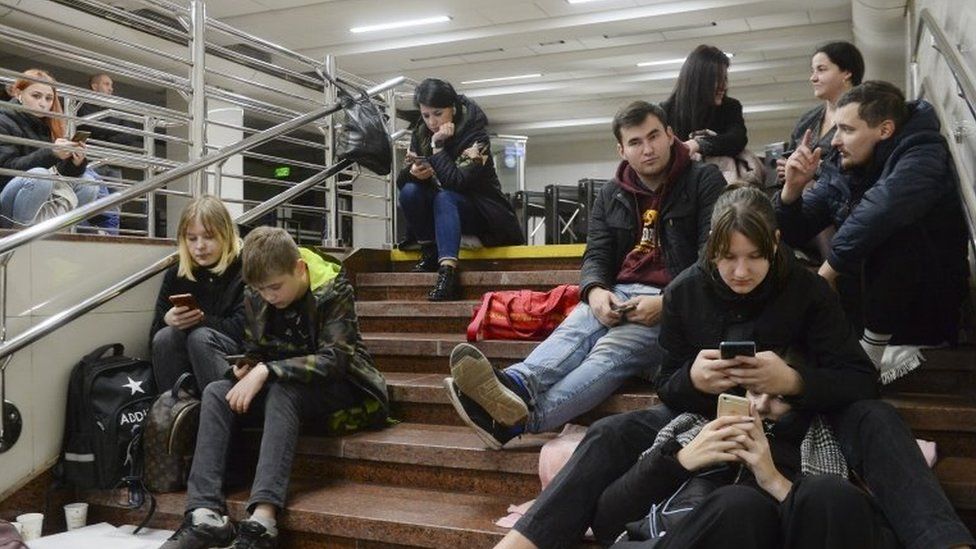 Image source, EPA Image caption,
In Kyiv, many residents were hiding inside the city's metro stations
Mr Klitschko reported water shortages in Kyiv after an energy facility near the city was damaged in the Russian attack. He said the supply would be partially restored within three to four hours.
He also said that engineers were urgently deployed to restore electricity supply.
The city authorities said that in Kyiv itself "no hits were recorded" due to "the effective work of the air defence forces".
Missile strikes were also reported on Monday morning in the central Vinnytsia region, as well as Dnipropetrovsk and Zaporizhzhia in the south-east, and Lviv in western Ukraine.
A facility at the Dnipro hydroelectric power plant in the Zaporizhzhia region was also reportedly hit.
Overall, 18 facilities - most of them energy-generating - were hit in 10 regions of Ukraine, Prime Minister Denys Shmyhal said, adding that "hundreds of localities in seven regions" were left without power.



Moscow would like this latest wave of Russian missile strikes to be seen as a punitive response to the drone attack on Russian military targets in Crimea on Saturday.
The Kremlin sees this as a warning: you dare to hit us in Crimea? This is what you can expect in response.
But there is a clear pattern emerging in recent weeks in this war.
The more setbacks Russia's army faces on the battlefield, the more its commanders punish Ukraine's civilian population.
With winter just around the corner, Moscow is hoping to so demoralise Ukrainians so that they plead with their government to sue for peace - on Russia's terms.
So far, that's unlikely to happen. But there is still a huge amount of damage and suffering that Russia's weapons can inflict on the civilian population.
The Kremlin will also be hoping that as this war drags on, Western support for Ukraine begins to weaken.
Russia's aim is to break the supply chain of Western weapons that allows Ukraine to defend itself and try to push back this Russian invasion.


Residents in the regions under attack were urged to remain in shelters, amid fears more strikes could follow. They were also warned that "emergency power outages" were being rolled out across the country.
In neighbouring Moldova, the authorities reported that a missile shot down by Ukraine fell in the "northern end of the town of Naslavcea" near the border with Ukraine. There were no reports of any casualties - but windows were smashed in several houses.
Ukraine's Air Force spokesman Yuriy Ihnat told Ukrainian TV that Russia had used its strategic bombers to carry out its "massive" strikes.
Foreign Minister Dmytro Kuleba said that "instead of fighting on the battlefield, Russia fights civilians".
Russia has carried out several waves of deadly missile and drone attacks in recent weeks, reportedly destroying almost a third of Ukraine's power stations and other energy-generating facilities ahead of the cold winter period.
Ukraine and its Western allies have repeatedly said that targeting civilian infrastructure amounted to war crimes.
On Saturday, one Russian warship was damaged in the port city of Sevastopol in a drone attack, the Russian defence ministry said. It also accused British specialists of having trained the Ukrainian soldiers who then carried out the strikes in Crimea - Ukraine's southern peninsula, annexed by Russia in 2014.
Moscow provided no evidence to back its claims.
Ukraine has not commented on the issue, while the UK defence ministry said Russia was "peddling false claims on an epic scale".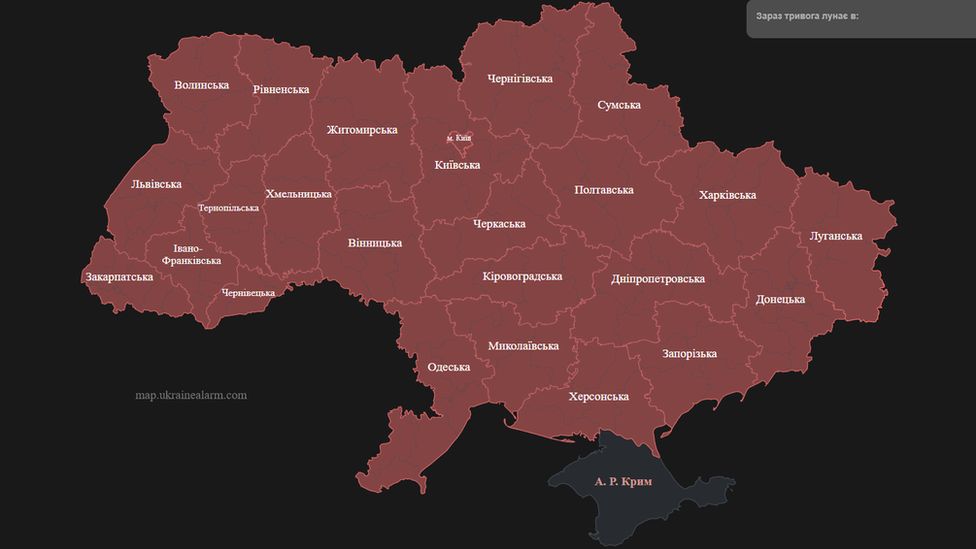 Image source, Ukraine's digitalisation ministry Image caption,
All of Ukraine's regions - except for the annexed Crimea in the south - were marked in red as being under air attack on Monday morning